Featuring founder of 3altawleh – @3altawleh
Hi Reem! Our Series is called The CandleStart Series – tell us about your brand.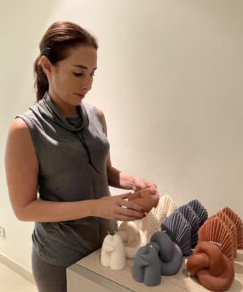 Thank you for asking! my name is Reem, I am a mother of two kids. I am Syrian and my brand is 3altawleh, its an Arabic word that translates "on the table" and it was inspired by my own passion for home décor and table setting. Table setting has always been something I enjoyed doing, even for a casual dinner with friends, I find myself decorating my table with candles. Friends and family would tell me "Reem, I love what you added on the table" and that inspired the name 3altawleh. I create handmade candles from sustainable organic materials in different shades and sizes. I also create my own plates that I place my candles on.
Please tell us about your journey to 3altawleh – what drew you to the art of candle making?
I have always been drawn to beautiful aesthetics and home décor. I had a love for candles for as long as I can remember. My home is filled with them. I believe candles add that perfect little finishing touch to make a house feel like a home I began my journey in feb 2021, At first I wanted to make candles for my home, so I spent the first six months researching the art of candle making and took my first work shop. I fell in love with the process and wanted to learn more. I found candle making therapeutic and soothing. It allows you to be in the present moment and just go with the flow.
The community cannot get enough of your pillar candle. What is it about these objects, in one part so historic and another so honest, that feel so resonant in 2023?
There is a timelessness about candles, they have been with us throughout history. They have calming properties and are visually appealing. Candles have the ability to create a cozy welcoming atmosphere and can be used all year round in any room of the house. They look equally beautiful lit or as a piece of decoration. Also they make wonderful gifts for any occasion; birthdays, holidays and dinner parties are all great times to give someone a candle.
3altawleh Candles has a beautiful, gentle handwriting and ethos. What inspires you?
I am inspired by colors, shapes and textures, and I look for inspiration everywhere. I was especially inspired by home décor so I tried to create a candle that can be functional and decorative at the same time.
Please tell us about your development process – where do you begin?
It started with an idea of creating something that looks visually beautiful lit and as a decorative piece. That can be placed in any room of the house and makes the perfect gift for every occasion.
What role does color play in designing your candles?
Color is essential during my creation process, I wanted to incorporate colors for every style, from soft pastel hues to rich earthy tones that add texture to your home. So I created candle sets that go well together and can be bought individually and paired with other decorative pieces.
We love the soft and soothing palette of the pillar candles. Which is your favorite color and why?
Brick brown is my favorite color, its so versatile and can be paired with different neutral colors and adds a natural warm feel to the home.
You design out of Dubai, United Arab Emirates – what are some things you need to have around you to feel inspired and happy at work?
I feel inspired to work in my own space, I find a moment of peacefulness that allows me to get into the flow of making my candles. There is something exceptionally soothing about pouring your own candles.
which social media platform is the most effective for you, and why?
Instagram of course! firstly for its visual and user friendly nature. I started by sharing my passion for candle making with family and friends, and with time It gave me the exposure I needed to kick start my business.
It's hard to believe we are in the early months of this year! What are your goals for 2023?
My goals is to grow my business, to keep designing candles, extending my product range and have my own candle making work shop/concept store one day.
What do you love the most about running your own candle business?
Independence, having a flexible schedule, being able to work from home and most importantly finding joy in doing something you love.
Find 3altawleh: Instagram
#3altawleh #candlestart #dubai #dubaicandles #waxmelts
---
Want to see your small business story featured on our site?
We're eager to share empowering stories that will inspire other candle makers to grow their ideas into successful businesses.
Shoot a brief email to candlestart team introducing yourself and your candle business. Your story might be the next one we feature on the website!